Craps Side Bets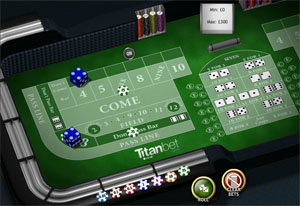 Play Craps online at Titan Bet Casino
In addition to all of the standard bets at the craps table, there are a number of side bets offered by casinos. While these can spice up the game, giving you a break from the regular betting options when things get a little monotonous and can earn you a few dollars on the side, some of them are purely sucker bets that have been added to give the house an even greater edge in these craps games and should be avoided.
Analyzing side bets at the table is often difficult, so it's best to know what they're all about before you play. Here we'll look at and analyze several of the most common craps side bets to help you do just that before your next online craps game.
It is important to keep in mind that side bets on all casino games generally carry high house edges so if you are looking to purely win the games you play they should be avoided. If however you are more of a casual gambler and just want to have some fun, with a little luck they can just pay off. So always keep your money on the less risky craps bets and place a side bet now and again for fun.
All Bet
The "All Bet" craps bet is a rather long shot wager, but that said, it does offer a big payout when it comes in. Winning this bet is determined on the shooter throwing every other number before he/she throws a seven. The payout on this wager is a massive 174:1 and the house edge is a rather large 8% because the odds of the shooter accomplishing this are highly unlikely. That said the 8% house advantage is still low as far as side bets go, so some players may believe the risk is worth it for the large payout potential.
Fire Bet
The Fire Bet is probably one of the most popular side bets in Craps. This bet generally requires a $1 wager and pays out if the shooter hits a number of different points before failing to make the point and rolling a seven instead. It is important to remember that the points of the different numbers add to the total but can only be counted once. So for example, if the shooter rolls a point of five then does so again later, that will only count as a single point in the Fire Bet.
The Fire Bet wins when a shooter hits four or more points, which is typically a very rare occurrence, which of course makes the payouts on this side bet rather high at 25:1 if the shooter gets four points, 250:1 if he/she makes five and a whopping 1000:1 for making all six. Be sure however to check the payouts on these bets as paytables do vary from one casino to the next.
The house advantage on this wager generally works out to bet between 20 and 25 percent depending on the paytable, making it a rather bad wager in the long term. That said if you would play the lottery for a $1, then you could opt for this bet at better odds to add excitement to your game.
Midway Bet
This side bet originated in casinos in Atlantic City and typically carries a house edge of around 5.5% making it one of the better side bet options in craps. It pays out when a shooter throws a six, seven or eight on the roll after the bet is placed. A win generally pays even money, unless a hard six consisting of a pair of threes or a hard eight made up of a pair of fours is thrown, which then result in a 2:1 payout.
Point 7
The Point 7 bet is one of the simplest and most common side bets in craps. This bet carries an 11% house advantage is made on the shooter rolling a point on his/her come out roll and subsequently rolling a seven on the next one. If this happens you'll earn a payout of 7:1.
7 Point 7
If you make the 7 Point 7 side bet you'll be counting on the shooter rolling a 7 early in the game. If he/she rolls a 7 on the come out roll you'll be paid out at 2:1, a seven on the first roll after establishing point payout out at 3:1 and in all other instances this wager loses.
It does however join the previously mentioned Midway bet in the lower house edge category at just 5.5%, yet it doesn't give you the opportunity to win big like the other side bets. Still if you're in for some added excitement that pays out small amounts on a more regular basis, this is the wager you'll want to make.
Sharp Shooter
The sharp shooter side bet wagers on the shooter going on a roll. This bet pays out if the shooter can achieve the point three or more times in a row but the largest payouts are earned if the shooter rolls a number of points. Payouts are as follows: Three Points will give you 5:1 payouts, if the shooter gets Four Points you'll be paid out at 9:1 and so the payouts increase until the shooter makes nine points (199:1) or the maximum possible 10 points in a row which would earn you a massive 299:1 payout.
Again the house edge is very high on this wager at around 22%. Still if you love risks and aren't too serious about winning, then it can be a great option and provide loads of entertainment for a relatively small wager.