Common Craps Mistakes you should avoid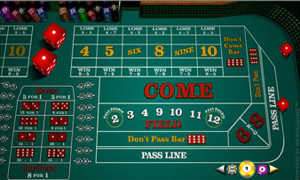 Put this knowledge into action at Platinum Play
While playing craps online means that the intimidation factor is removed and you have the auto play function if you don't want to place bets yourself, if you are going to play the game on your own you can still make mistakes that could end up costing you.
Here we look at a few common Craps mistakes that you should avoid in order to increase your winning potential.
Not knowing the Rules
Craps is a pretty complex game so taking the time to learn the rules and how to play will only help you to understand the game better and make the best possible bets. Not only will you enjoy the game more but you'll avoid making unforced errors and costly mistakes.
Placing Bets without knowing the House Edge
Craps is one of the casino games where the bet you choose to make can significantly affect your winning potential due to the different house edges that each option carries. While it does have some low house edge bets like the pass line and don't pass line wagers, it also has some of the highest house advantages of all casino games on certain bets.
So be on the lookout for and avoid the more risky bets like Horn Bet which carries a 12.5% house advantage and the Any 7 Bet which has an 11.11% house advantage that causes the casino to rake in massive profits if you are not aware of just how bad these bets are for your bankroll.
Placing Multiple Bets when on a tight budget
If your casino bankroll is on the small side you should avoid placing too many bets at once. Obviously the more bets you place the more it's going to cost you and that means that in a few unlucky rolls your money could all be spent. Rather place a single bet at a time and enjoy playing for longer.
Not using the Odds option to back your bets when it is available
Odds bets are one of top wagers you can make when gambling because these bets have the opportunity for you to earn even money payouts without the house edge. This means that you can back your pass line bet up (1.41% house advantage) with a 1x odds bet and reduce the house edge to a mere 0.7% on that wager. Quite a difference isn't it? Whenever the odds bet option is available make sure that you use it!