Playing in Online Craps Tournaments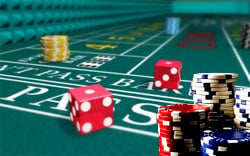 Craps has always been a popular casino game and whether played at an online casino or land based one, generally attracts a great deal of attention and generates a lot of excitement. In an effort to remain competitive and continue to offer players new and exciting ways to play the game, many online casinos now offer online craps tournaments.
If you're thinking of playing in one of these, there are a few things you definitely need to know. Check out our guide to online craps tournaments below.
Always play at a reputable online casino
This should go without saying, but sticking to an online casino like Platinum Play and those recommended by TeachMeCraps.com that have a good reputation amongst players is your safest bet for ensuring that you can enjoy an online craps tournament without worrying about the safety and security of your player information, bankroll and whether or not you will actually get paid any winnings owing to you.
Tournament Fees
Depending on your level of skill you will have two options when it comes to playing in online craps tournaments. Firstly some online casinos will offer Free Entry into their smaller tournaments. This is a good place to start if you are new to the game or online tournaments as it will give you the opportunity to participate and get a feel of how everything operates without costing you money. That said however, it is always important to familiarise yourself with the terms and conditions of these free tournaments to ensure that there are no hidden costs or catches.
If you are more of a craps pro, then you may choose to enter the larger tournaments. These generally require entry fees or a "buy-in" which can range from a few dollars upwards, with some in excess of $100. Always familiarise yourself with the requirements and rules of any tournament before entering.
Evaluating the Prizes
Before paying to enter an online craps tournaments you need to evaluate the prizes and determine whether or not entering will be worth your entry fee. Casinos run these types of tournaments to attract players and as such they should be contributing the majority of the entry fees to the prize pools so always check whether or not the prizes match your buy-in.
The Rules, Terms & Conditions
Before entering a tournament always review the Terms & Conditions set out by the casino in order to avoid any nasty surprises. Also familiarise yourself with the Tournament Rules as tournament formats do differ from the regular game and certain rules may be different to what you are used to.
The rules will also give you insight into a number of factors including the minimum and maximum number of people able to take part, the tournament length and the amount of cash in the prize pool and how this will be paid out. The latter is important to know because some tournaments divide the winnings by the top few places rather than the top player and you don't want to be disappointed.
How to play in an Online Craps Tournament
Once you've selected your craps tournament based on the above criteria it will be time to enter and begin. Generally all you have to do is fill in and entry form and pay your buy-in to be eligible.
The aim in an online craps tournament is to finish as the player with the highest total bankroll. Always keep in mind that in a tournament you will be playing against other players rather than the house like in standard games, so keep your eye on what is going on around you and monitor competitors betting patterns and try to pick up on how they are playing so that you learn how they bet and you can adjust accordingly.
Usually tournaments are split up into different rounds and the two players with the highest amount of money move on to the next round. In the last round the player with the most money wins and takes home the prize, unless of course the prize pool is divided amongst the top slots and is distributed accordingly.