Pushing the House on Pass Line in Craps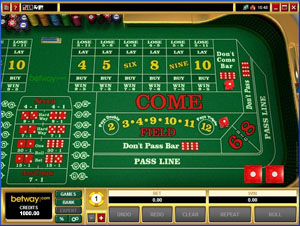 Play Craps online at Betway Casino
Pushing the House on Pass Line bets is probably one of the best kept professional player secrets in the game of craps. This move ensures that the pros secure better odds than casual gamblers but here we'll share this secret with you so that you can increase your chances of winning every time you play.
So what is pushing the house on pass line bets? A prime example of this occurs when you bet the pass line in a game of double odds craps where six or eight is the point. So if you bet $10 on the pass line, you should technically be able to wager $20 behind the odds. If you win in this instance you'll earn $10 on your pass line bet and $24 for the odds bet (payout out at 6:5). It is important to note that most casinos will generally let you push the wagering up to $25 on odds on a $10 wager which will give you 2.5x odds as opposed to 2x which will give you a $30 payout. This means that your winning will amount to $40 instead of $34.
Even if you're a lower roller and want to wager $5, you can still apply this method. So if you bet $5 on the pass line and 6 or 8 is the point in a double odds craps game, you will be allowed to play up to $10 behind the line, but make sure you ask the dealer if you can place $15 in odds on the six or eight instead. That way, if it hits, you will receive $5 for the pass line bet and $18 on the odds bet giving you a winning total of $23 as opposed to $17 if you didn't push your luck by asking to increase the bet.
The same technique applies no matter what bet you want to make on the passline. If five or nine becomes the point, the casino will generally allow you to place a $10 wager behind the line on a $5 pass line bet. But if you ask the dealer they may permit you to up the odds bet to $20 and if five or nine comes up, you'll walk away with a payout of $5 for your pass line bet and $30 on your odds bet which amounts to $35 instead of the original $25.
If a 4 or 10 becomes the point and you have the same $5 pass line bet, ask if you can place a $20 bet on the odds instead of the $10 one and if you happen to win you'll earn a total of $45 instead of the original $25.
While this method is generally not viable when playing craps at online casinos, unless you play a live dealer craps game where you can interact with the dealer and try to push the house, it is generally more effective at land based venues, although it will come down to the dealer. Generally dealers are more lenient if you tip them well and will stretch the rules for you and in doing so you'll more than cover those tips in winning.
So give it a try next time you're in Las Vegas and see how it turns out. You never know until you try.